Buy Taito Battle Gear 3 Twin Arcade Machine
$5,100.00
Product Details
Width –
182 cm / 72 inches
Length –
158 cm / 62 inches
Height –
178.5 cm / 70 inches
Weight –
417 kg / 919 lbs
Warranty
12 Month Domestic / 6 Month Commercial
Description
Manufacturer: Taito 
Year of Release: 2004
About The Game:  Buy Taito Battle Gear 3 Twin Arcade Machine
Battle Gear 3 is the ultimate racing game! 
generally, From the fastest to the strongest, with Battle Gear 3 racing games plunged into a new dimension.
The realistic operation unit provides a first hand driving experience, plus, including a reactive steering wheel, an accelerator, a brake pedal, again, a front-back shifting lever and an emergency brake.
Again, This game has been designed to achieve authenticity and is also equipped with view-changing buttons and a hazard button.
Buy Taito Battle Gear 3 Twin Arcade Machine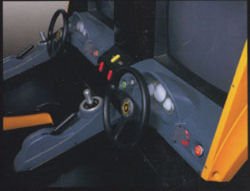 Game features:
There are 33  car models from 6 manufacturers offering the widest selection in any Battle Gear game – and Battle Gear 3 has dramatically improved the technique to simulate reactions and sound properties of individual cars, as well as instrument panels and gauges

Also, Hot competition in the Time Attack mode now becomes even hotter

Again, Totally renewed courses, take your favorite car and race through seasonal landscapes

Plus, All the courses have been completely upgraded – now there are 14 courses for beginners and professionals!


Buy Taito Battle Gear 3 Twin Arcade Machine
The machine is complete, fully functioning and has been reviewed by a highly qualified pinball technician. This beautiful machine really needs a new home.  cabinet is perfect. No wear. in addition, No fading, The playfield is very good, Boards are original and function 100%. Translite is great as well.
Buy
Overall excellent condition. plus, Cabinet is in excellent condition, playing surface awesome, all mechanics work properly. If you would like to see more close-up pictures or video, let me know.
The game goes through service checklist to make sure it is 100% fully operational and looks great! Again, What you see is what you getting.
All electronic boards are inspected, serviced, Inspected and any burnt connectors and repaired and replaced if need be. plus, Fuses are checked and correct fuse values installed (safety issue to prevent damage to the game or a fire) .
Additional information
| | |
| --- | --- |
| Weight | 417 kg |
| Dimensions | 158 × 182 × 178.5 cm |