Galaxy Conversion 2500 Multi Game Arcade Machine
$1,700.00
Key Features
Unique tilting top for dual game styles – vertical or horizontal.
Automatic screen flip on vertical games.
Play 2,500 classic games from the best years of videogaming.
Cocktail-style cabinet.
Bright LCD screen.
Wood composite cabinet.
Toughened glass top.
Hydraulic strut for top.
Stereo sound.
Saves high scores in-game (does not save high scores after you exit the game).
Wifi/ethernet connection required.
Unique flip-up screen.
Two sets of controls.
Play horizontal & vertical games with ease.
Massive hits from the golden age of gaming.
In stylish cocktail arcade cabinet.
Product Details
Width –
76 cm / 30 inches
Length –
104 cm / 41 inches
Height –
75 cm / 30 inches
Shipping Width –
80 cm / 31 inches
Shipping Length –
106 cm / 42 inches
Shipping Height –
79 cm / 31 inches
Shipping Weight –
55 kg / 121 lbs
Warranty – 12 Month Parts Replacement Warranty
Description
Unique Tilting Screen
Not sure whether to go for a cocktail-style arcade or a more conventional upright? The Galaxy Conversion gives you the best of both worlds. Play a huge range of games on a tilting LCD that adjusts to suit your favorite titles. For vertical games played with cocktail-style opposing controls, keep the screen flat. But when you want to play horizontal games on the dual side-by-side controls, you can tilt the screen up into a position more like a stand-up arcade machine.
The Galaxy Conversion allows you to play 2,500 classic arcade titles on a single gaming cabinet. You'll find all your old favorites, plus plenty of others you've never played before. Browse the game list and find your favorites.
Toughened Glass Top
Play any of the listed games on the Conversion. For a real 80s vibe, lay the screen flat and grab the opposing controls. You can play vertical-format games like Asteroids, Pac-Man and Galaxian, and the screen automatically flips to suit whoever's turn it is. Or move into the 1990s. Load up Street Fighter II, Mortal Kombat or Cobra Command, prop the screen in its vertical position and take the side-by-side controls with a friend.

It couldn't be easier to use. Enter the menu and scroll through the game lists. Then simply load one up at the push of a button and get playing. A Wifi/ethernet connection (required for play) means that you can easily enjoy all your old favorites, and get real-time technical help and software updates anytime.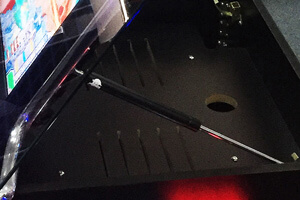 Arcade-Standard Controls
The cabinet is made from a tough wood composite, strong and resistant to knocks. It's shaped like a conventional cocktail arcade cabinet, of the style so popular in the 1980s, and a toughened glass top protects the screen. The vivid LCD screen easily rotates upwards to create a near-vertical display, resting on a smooth hydraulic strut. You have two sets of controls to use, whether you're playing on your own or with a friend.
The controls are commercial arcade quality, with responsive joysticks and illuminated buttons for each player. True stereo sound recreates all the game music and sound effects you love in absolute clarity. Easily adjust the volume at the twist of a dial.
Whether you prefer cocktail arcades or stand-ups, the Conversion means you don't have to choose.
Additional information
| | |
| --- | --- |
| Dimensions | 104 × 76 × 75 cm |